Sale Pepe and the 7th Day Brewery are proud to be hosting the WAVES FOR WATER fundraising event this year on the 16th of November. The event will take place from 5:30pm until late in our Brookvale venue at 9 Powells Rd, so save the date and get in on this incredible initiative!
There will be a $20 entry donation which will go towards the fundraising for the latest Waves For Water charity incentive.
Can't make the event? Make a donation and be a part of the HUGE RAFFLE – Prizes valued at $12,000 – See below

Please note we will be serving a LIMITED MENU for the night, view the limited menu here.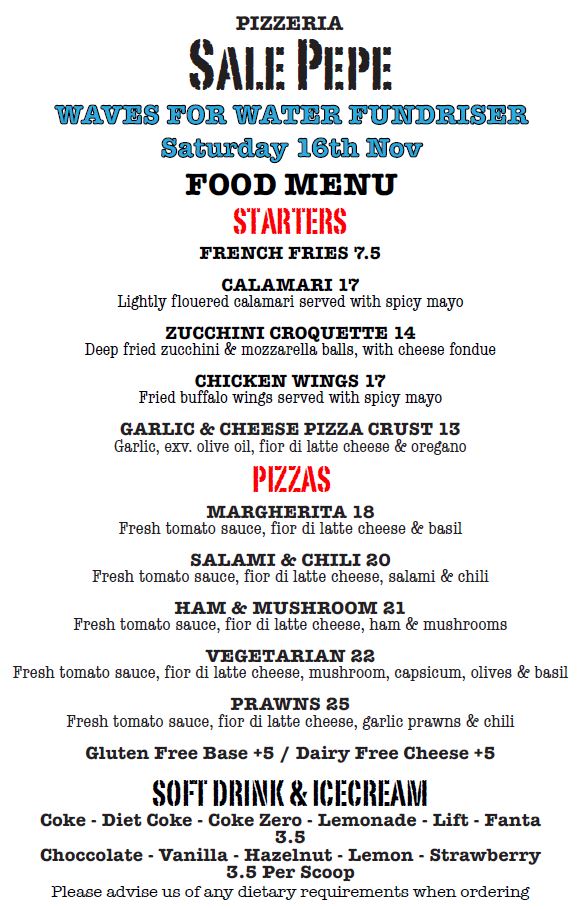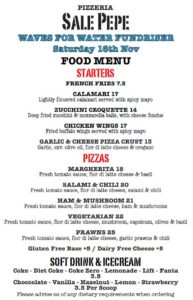 Waves for Water is setting out with the goal to solve the water crisis and provide access to clean drinking water around the world. Water is a fundamental human right, and Waves for Water is helping to change and save lives around the world through the implementation of portable water filter systems, the digging/renovating of bore-hole wells, and the construction of rainwater harvesting/storing systems (in places where groundwater is not accessible).
The last fundraising event in Newcastle raised over $25000 dollars which has since provided over 500 clean water filters to Australian travel enthusiasts via the Waves For Water courier program. The filters have been taken by individual travelers ("doing what they love and helping along the way") to areas with limited or lack of access to clean, safe drinking water – India, Sri Lanka, Indonesia, Africa, South America, Nepal, Fiji and PNG to name a few.
The goal for this latest incentive is to double it and raise $50,000 which will help to continue established work well as building sustainable clean water projects in other areas of our beloved Asia Pacific neighbourhoods. Some of these latest projects include work in Indonesia, particularly in the Mentawai Islands, Lombok, Bali and Sulawesi. In particular, there has been a focus on getting clean drinking water to the earthquake-affected communities of Lombok.
You can find out more about Waves for Water on their website.
Don't miss out on your chance to partake in this beautiful initiative. We'll be there with plenty of delicious food and beverages to support the occasion!
It's easy to get a raffle ticket – Click the link below – Then – Simply make a DONATION ($20 for one raffle ticket or $50 for three) and type in "Awesome Raffle" in the Message of Support box. We will then put you in the draw to win!
PRIZES (Valued at)
Mentawai Daze – 12 Night Surf Trip – $3500
The Perfect Wave – 7 night family holiday at S Resorts in Bali – $2000
Hurley – Ultimate surfing couple clothing pack – $1005
Nixon – Mens and Women's pack – $500 each
Creatures of Leisure – Ultimate Travel pack – $900
Lost Surfboards – Mayhem Driver 2.0 – $899
Eagle surfboards – Custom surfboard – $650
Kasees Lodge – Thredbo 3 Night summer getaway – $555
Flight Centre – $500 Voucher
Manly Surf School and Gym – Package – $280
Aloha Manly Style – $200 Voucher
Hugos manly – $200 Dining Voucher
Mandala Living – $200 Voucher